Brendan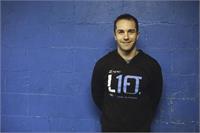 Education & Credentials
Bachelor of Kinesiology (BKIN)
Certified Strength and Conditioning Specialist (CSCS)
Triathlon Community Coach
Ready to Race Cycling Coach
Special Interests
Running Form and Speed Training
Running Gait Analysis
Swim Stroke Improvement
Personalized Running Coaching
Personalized Triathlon/ Multisport Coaching
Strength Training for Running, Triathlon and Endurance Events
Individual and Group Strength Training for all your athletic and fitness goals
Health and Fitness Consultation and Accountability Sessions
About Brendan
Brendan is one of our senior staff members and has been with Level 10 for 10 years. Although, he has competed at a high level in many sports and is highly effective in training any athlete or any individual his expertise is in training endurance athletes. Currently he coaches Running and Triathlon both with the Level 10 Lightning Team as well as the Regina Multisport Club Youth Team. If you are a runner or triathlete or if you want to find out how to become one then he is someone you need to see.
Brendan instructs the following:
If you want to improve your swimming technique and fitness for this year's race season or you just want to become a better swimmer, this small group swim class might be just what you need. Small groups allow you to get the instruction you need and finally become the swimmer you know you can be!




Tuesday Runs

Jan 8-April 30th

To race fast you have to train fast and smart.

Tuesday sessions will be focused on top end speed development building to race pace specific training to have you smiling on race day.

Location: 5:45 am at the U of R FLC indoor Track

You will need an FLC special pass to gain entry to the track.

Thursday Runs

Jan 3-April 25th

Run coaches often talk about the secret to racing well over a given distance and they all agree that Tempo runs are critical to having success on race day. These sessions below your threshold help the body to adapt to your race pace and increase running efficiency. It feels so good when these sessions completed.

Location: 5:45 am at the U of R FLC indoor Track Saturday

Outdoor Runs

No matter what option you choose Saturday base runs are the foundation for all training gains to be built off of. We embrace the winter and use these days to build our base and our grit. We have also got quite a puppy group out for these social runs. Saturdays are included in any of the run packages.

Location: 8 am from the U of R Kinesiology east entrance

Price List

1 Day $169 (must choose which day)

2 Day $269

*A $25 per month U of R FLC pass will also be added to registration unless you already have one.




This class is designed for the Triathlete, Runner or any Endurance athlete out there who is looking at improving their athletic performance through specific work in the gym. This is for men and women and is designed to compliment all of your training outside the gym to prevent overtraining and maximize your training results.




This class will be geared towards the fit adult wanting to improve their overall fitness & Perform Better.

Most of us spend too much time sedentary and this class is the one that will correct posture and muscle imbalances; improve aerobic and anaerobic fitness; increase strength power and muscle mass is desired; and lastly get your body to perform better than it ever has before or as good as it ever has.

You will be encouraged to set goals and train to achieve them while one of our Certified Strength Specialists will motivate you all to choose something that challenges you to compete in and test your fitness.