Tom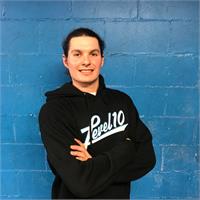 Education & Credentials
Bachelor in Kinesiology - Human Kinetics
NSCA - CSCS
Bachelor of Arts - Business Certificate
About Thomas
Coming from Weyburn, the opportunity to play any sport offered is what Thomas did. Constantly wanting to stay active, Thomas focused his efforts on Football and hockey officiating, playing for the Regina Thunder of the CJFL and officiating the SJHL and PJHL while completing his BKin at the U of R. Thomas Completed his Fieldwork at L10 before perusing football, where Thomas went to the University of Guelph in Ontario, playing football for the Gryphons, and worked as a personal trainer. Thomas completed an Arts Degree and a Business Certificate at Guelph, before returning back to L10.
Thomas loves anything to do with moving and activity, with a lot of passion, energy and motivation for any client looking to better their fitness!
Tom instructs the following:
Adult Group Training gives clients the benefits of private personal training, but with the added intensity of exercising with a group and achieving similar goals. Adult group training is affordable and fun, while providing accountability, encouragement, education, and social support. Your classes are led regularly by one trainer who keeps track of your progress and keeps you challenged. Training with same group of people also also for periodization and gradual progression in difficulty of lifts, which enhances the safety of exercising.




Main focus in this class will be resistance training (ie. hypertrophy, strength, strength to power conversion, etc.).




This class will include 30mins of spin accompanied by 30mins of resistance and core.




The main focus of this class is core strength, but is accompanied by CV work and some strength movements as well.




An all cardiovascular (CV) related class that may include Spin, Treadmill/Outdoor running, Versaclimber, Air Bikes, Rowers, etc. accompanied with core strength movements.