Alissa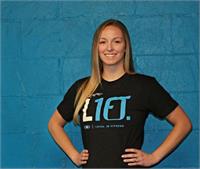 Education & Credentials
Bachelor of Kinesiology, Fitness and Lifestyle – University of Regina
Certified Exercise Physiologist, CSEP
Certified Strength and Conditioning Specialist, NSCA
Consultant for the Sport Medicine and Science Council of Saskatchewan
Special Interests
Cheerleading Gymnastics
Dance
Children's fitness programs Young athletes
Weight management
General health and fitness
About Alissa
Alissa is a very energetic and organized individual who enjoys being involved in many different activities. Her athletic background includes playing softball and competitive cheerleading. She was a member of the University of Regina Cheerleading team from 2003 to 2007 and helped the team to take home several first and second place trophies. In 2007, Alissa became a part of the Saskatchewan Roughrider Cheerleading Team and now performs in front of the sold-out crowds at Mosaic Stadium. Alissa also has over 10 years of coaching experience with a number of high school cheer teams. Due to her extensive cheerleading experience, Alissa enjoys training other cheerleaders, dancers and gymnasts. Alissa's vibrant and friendly personality has allowed her to work with many diverse populations of people including seasoned athletes and individuals who are becoming physically active for the first time. Alissa has found Level 10 to have a very welcoming atmosphere and loves motivating and challenging all her clientele to reach their personal goals. Alissa exemplifies the intensity and the commitment that Level 10 trainers have come to be known by.
Alissa instructs the following:
Kettlebells are an effective training tool maximizing results in workouts. Challenge your core strength, flexibility, balance and stability, coordination, cardio, and muscular endurance with the newest dynamic exercises at all skill and fitness levels. Be ready to work!!




Mommy Bootcamp is designed for moms of all fitness levels. Pregnant moms, new moms, and moms with one or more children are welcome. This baby friendly class allows moms to get a good workout while still being able to cater to your baby's needs. Classes will incorporate strength, cardio, and flexibility as well as focus on restoring the core, for a total body workout. This program is a great opportunity to get active with your baby and connect with other moms in the community.

Moms should be at least 6 weeks postpartum(8 weeks for a c-section) with clearance from their doctor to resume physical exercise. Pregnant moms should also receive clearance from their doctors to start or continue a fitness program.

Mondays & Wednesdays

9:00 am - 10:00 am

Health Investment: $320 +tax

January 7-March 18 (20 sessions)

*** No session February 18th***




Main focus in this class will be resistance training. The trainer will then have the choice of mixing in cardio, core, mobility, etc.




This class will include 20mins of spin accompanied by 40mins of resistance and core.