Nick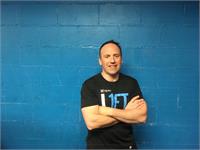 Education & Credentials
Bachelor of Science in Pharmacy-University of Saskatchewan
Certified Strength and Conditioning Specialist (NSCA)
About Nick
Nick is excited to be back at Level 10 where his passion for training and coaching began back in 2003. He has always enjoyed many sports and was a past provincial badminton champion and competed at nationals as well. Nick took up an interest in endurance sports after beginning training at Level 10 and has completed multiple Half Ironmans and 3 Ironman triathlons. In 2014 his fitness journey resulted in competing in INBF and IDFA natural bodybuilding competitions, winning the life transformation challenge at the IDFA competition. He is currently training to compete in his first Strongman competition in summer of 2017. Over the years Nick has enjoyed coaching people in a variety of things including endurance sports, strength training and nutrition. Having gone through the process himself, Nick has a keen interest in inspiring people to change their lives through hard work, perseverance, and most of all by allowing yourself to DREAM BIG.
Nick instructs the following:
Adult Group Training gives clients the benefits of private personal training, but with the added intensity of exercising with a group and achieving similar goals. Adult group training is affordable and fun, while providing accountability, encouragement, education, and social support. Your classes are led regularly by one trainer who keeps track of your progress and keeps you challenged. Training with same group of people also also for periodization and gradual progression in difficulty of lifts, which enhances the safety of exercising.




High Intensity Interval Training is a circuit or series of circuits that have a timed work and rest component. The rest intervals allow the clients to workout at a higher intensity during the timed segment in which they are performing work.




The majority of this class (40mins or 45mins) will be on the spin bike, then followed by 15-20mins of stretching and range of motion movements.