Addison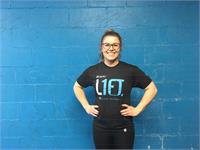 Education & Credentials
Bachelor of Kinesiology - Human Kinetics and Adaptive Movement Science - University of Regina
Certified Exercise Physiologist (CSEP)
NCCP competition coaching certification
NCCP First Nations coaching certification
Mental health Training Certificate
Special Interests
Orthopaedic injuries, youth, CrossFit athletes, soccer, general fitness
About Addison
Addison brings with her a zest for life and a passion for helping people find their inner motivation. After obtaining her undergraduate degree in kinesiology at the University of Regina in 2016, she completed her certification as a certified exercise physiologist. Addison has been working as a personal trainer and coach since 2014 with a wide range of clients such was children, athletes, and individuals with orthopaedic injuries. Along with training clients, she also takes the time to counsel and work with at risk youth. Her athletic pursuits have been lifelong in all things outdoors but currently she commits her spare time to playing on several sports teams including soccer, team handball and flag football. Currently, Addison is working towards attaining her Level 1 CrossFit certification for coaching and looks forward to working with different types of athletes & clients. Her philosophy around training is to work hard enough, enjoy it enough, and keep coming back for more... while always smiling.
Addison instructs the following:
For those of you that want to keep the program going, or for the curious minds to try something new. Continuing Chiselled will run for 5 weeks with the one pricing option available.

With this Unique Continuing 5 week program you will receive a 5 punch card to be used on top of your regular sessions.

Chiselled Punch cards cannot be used for yoga classes and expire at the end of the 5 week program.