Addison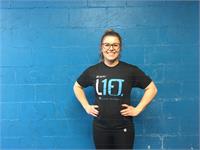 Education & Credentials
Bachelor of Kinesiology - Human Kinetics and Adaptive Movement Science - University of Regina
Certified Exercise Physiologist (CSEP)
NCCP competition coaching certification
NCCP First Nations coaching certification
Mental health Training Certificate
Special Interests
Orthopaedic injuries, youth, CrossFit athletes, soccer, general fitness
About Addison
Addison brings with her a zest for life and a passion for helping people find their inner motivation. After obtaining her undergraduate degree in kinesiology at the University of Regina in 2016, she completed her certification as a certified exercise physiologist. Addison has been working as a personal trainer and coach since 2014 with a wide range of clients such was children, athletes, and individuals with orthopaedic injuries. Along with training clients, she also takes the time to counsel and work with at risk youth. Her athletic pursuits have been lifelong in all things outdoors but currently she commits her spare time to playing on several sports teams including soccer, team handball and flag football. Currently, Addison is working towards attaining her Level 1 CrossFit certification for coaching and looks forward to working with different types of athletes & clients. Her philosophy around training is to work hard enough, enjoy it enough, and keep coming back for more... while always smiling.
Addison instructs the following:
Adult Group Training gives clients the benefits of private personal training, but with the added intensity of exercising with a group and achieving similar goals. Adult group training is affordable and fun, while providing accountability, encouragement, education, and social support. Your classes are led regularly by one trainer who keeps track of your progress and keeps you challenged. Training with same group of people also also for periodization and gradual progression in difficulty of lifts, which enhances the safety of exercising.




Tuesday:

Lead by Brendan Mackenzie who is a certified cycling and triathlon coach. With great energy and music that everyone loves to work hard to this spin is a can't miss! Not only will you work hard, sweat and have fun, but you will also see your fitness improve with each class.

Thursday:

In the spring and summer months Brendan offers those who want to get outside and run the chance to do so during the workout. Don't worry if you just come for the spin. Brendan splits the class in two groups you get what you came for!
The Spin and run session is approx 45-50 min
The stretch portion is approx 10-15 min




This high-intensity class consists of 30 minutes of cardiovascular drills, mobility and finishes off with a full body lift; aimed at melting fat away and increasing muscular definition.




* New as of January 2015 - all chiselled punch cards will expire at the end of each 10 week program. Previous Chiselled punch cards do not apply. *

Chiselled is a 10 week program focused on changing your body shape and increasing your muscle definition. Each Chiselled work out is focused on high repetition, low resistance training, combined with light plyometric and cardiovascular exercises. The Chiselled program will increase your lean muscle mass, burn fat, and accelerate your metabolism.

The Science.......How can the Chiselled program change my body shape?

The key focus of the Chiselled program is accelerating your metabolism (metabolic rate) by increasing your lean muscle mass which will help you burn fat, increase your muscle definition and re-shape your body.

The high repetition, low weight resistance training will ensure optimal muscle fiber recruitment, muscle fatigue and tissue breakdown necessary for developing lean muscle.

Choose your "Chiselled" program package...

PUMPED Package:
2 Chiselled training sessions per week, and a
10 class punch card (for use of any of our fitness classes excluding Yoga and expiring at the end of the 10 week program)

RIPPED Package:
2 Chiselled training sessions per week, and a
20 class punch card (for use of any of our fitness classes excluding Yoga and expiring at the end of the 10 week program.)



Chiselled Punch cards cannot be used for yoga classes and expire at the end of the 10 week program.