Preston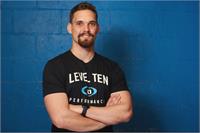 Education & Credentials
University of Regina, Bachelor of Kinesiology, Human Kinetics major
NSCA Certified Strength and Conditioning Specialist
CSEP Certified Personal Trainer
About Preston
Preston currently resides in Lumsden, but has lived in a couple small towns while growing up. There, he played every sport that could fit his schedule including, volleyball, basketball, football, soccer, lacrosse, baseball, ultimate frisbee, and track and field. While in Lumsden he was successful at the provincial level, earning a bronze and two gold medals in basketball and football. He had several tryouts for junior football as well as CIS, however another concussion on an already long list of injuries kept him out of contact sports. This, as well as his history in the weight room, helped guide him to a Kinesiology degree, as he wants to help athletes play at their best level but more importantly being able to do that injury-free. He has been an athletic trainer with the U of R Rams for the last couple years and is starting to work with the track team now as well. His involvement in ultimate helped get the U of R Cougars teams a solid foundation in the school. His passion for helping people is with him everywhere he goes, and he enjoys giving people the tools they need to live a better, healthier life.
Preston instructs the following:



Fit Forward is one of our Small Group Training options. It offers a low impact way to get a good workout in twice a week; whether it's a lift, cardio, core, and/or mobility! It runs on Mondays and Wednesdays at 5:30 p.m all year round. Inquire with the front desk if you're interested in joining!




A total body strength and conditioning blast. 20 minutes of heart-pounding spinning followed by 20 minutes of circuit training with a variety of sequences and equipment. Finishing off with 20 minutes of core work & stretching to complete a fun workout effective for all fitness levels. Guaranteed not to get bored in this class.