Chelsea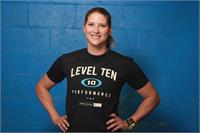 Education and credentials:
Bachelor of Kinesiology, Human Kinetics & Health Promotion - University of Regina
Certified Personal Trainer, CanFit Pro
Special Interests:
Volleyball, Boxing, Golf, Hockey, General population to elite athletes
About Chelsea:
Growing up in Weyburn, Saskatchewan, Chelsea was involved in many different sports. She especially took an interest in hockey, volleyball, golf and softball. She went on to play CIS volleyball for the University of Regina Cougars and competed at the National Championship in the 2014 season. She continues to play competitive volleyball, as well as enters Amateur golf tournaments when time permits. Chelsea especially enjoys training general population and elite athletes and teaching spin and boxing fitness classes. Chelsea's passion is in assisting her clients reach their fitness goals and helping them push to achieve a strong and healthy lifestyle. Currently Chelsea is working towards a TSAC certification. She has a keen interest in physically training the military, fire and rescue, law enforcement, protective services, and other emergency personnel to improve performance, promote wellness, and decrease injury risk.
Chelsea instructs the following:
Burn, Baby, Burn! Tighten the thighs and lift your seat in an upbeat spin followed by intense lower body workout.




30 minutes of fun powerful riding followed by 30mins of power moves, sculpting & core to get the most of out of your hour. One hour, one workout, one way to transform your body.




A total body strength and conditioning blast. 20 minutes of heart-pounding spinning followed by 20 minutes of circuit training with a variety of sequences and equipment. Finishing off with 20 minutes of core work & stretching to complete a fun workout effective for all fitness levels. Guaranteed not to get bored in this class.




Utilizing integrated strength, cardio and power drills, class rotates strength, power and endurance formats, ensuring to avoid plateaus and maximize training results. Incorporated are also calorie-blasting cardio and core to give you little bit of everything!! Something new each session will keep you on your toes!




Kettlebells are an effective training tool maximizing results in workouts. Challenge your core strength, flexibility, balance and stability, coordination, cardio, and muscular endurance with the newest dynamic exercises at all skill and fitness levels. Be ready to work!!




Make the most out of your lunch hour with this fast paced class designed to maximize your time & effort. The Quickie combines high rep, large muscle group resistance training with anaerobic intervals and to get the most out of you. Leave all got on the floor in just 45mins.




Enjoy this spin and strength class that will pump up your cardio game and tone your entire body.




Power up the hills, blast through the versa sprints, take it out on boxing bags and experience what endurance is all about. This workout has it all! It's a guaranteed breathless venture that will leave you drenched in sweat. Going NONSTOP so don't forget your water bottle.




Push yourself further than you ever thought possible in this non-contact boxing style workout. This will increase your metabolism, speed, agility, power, finesse, and endurance. No previous experience of boxing required and intensity is based on self-preference. This isn't just one of the best workouts you can do, but it also teaches you a skill on how to properly box.

This class is not recommended for newcomers to level 10.




Balance and Stability is often an over looked aspect of fitness. We believe challenging your core and stabilizer muscles is a very important part in having a well rounded fitness routine.
Stability and Strength consists of exercises that use "unstable environments" like bosu balls, bongo boards, and single-leg movements to restore the original condition of the body.
Monday and Friday at 6:00 a.m.




Take your lifting to the next level with low reps and high weights.