Jessica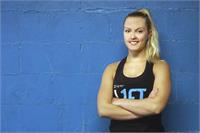 Education & Credentials
Bachelor of Kinesiology, Human Kinetics – University of Regina
Certified Personal Trainer, CSEP
Special Interests
Volleyball, Young Athletes, General Population up to elite athletes
About Jessica
Jessica was born and raised in Crystal Springs, Saskatchewan. Growing up she enjoyed many different activies and sports including skiing, wakeboarding, running, dodgeball, and volleyball. She specialized in volleyball and played for 7 years competitively which she continues to play both competitively and for fun until now. After couple of years of coaching she decided to focus on the strength and conditioning side of the sport. After finishing her degree in Kinesiology, Jessica completed her fieldwork with Level 10. Jessica especially enjoys training the younger athletes to help them better their sport performance and skill level , as well as general population who want to simply improve their lifestyle. She is currently working towards her massage therapy diploma RMT so that she can also rehabilitate injuries and help clients to get back to their daily lives or sport.
Jessica instructs the following:
This class is designed for the Triathlete, Runner or any Endurance athlete out there who is looking at improving their athletic performance through specific work in the gym. This is for men and women and is designed to compliment all of your training outside the gym to prevent overtraining and maximize your training results.