Wendy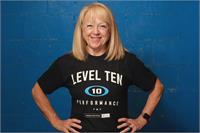 Credentials:
Certified Yoga Teacher
About Wendy
Wendy's yoga class brings balance, inner strength, flexibility and energy in a "fluid posture flow" followed by breathing techniques and guided meditation. … leaving you feeling blissful with balanced body, breath and mind.
Wendy's introduction to yoga began with the Ashtanga style of yoga in 2005, to improve her flexibility. Through regular practice, Wendy discovered more than just the physical benefits from practicing yoga, she found it also helped her to be more focused, relieved stress and improved her general feeling of well-being. Wendy expanded her practice to include Sattva Yoga and completed her Sattva Yoga teacher training in March 2012 under the leadership and guidance of Rameen Peyrow, founder of Sattva Yoga and owner of the Sattva School of Yoga in Edmonton, Alberta.
Wendy has been leading yoga classes since May 2012 teaching Sattva Yoga and other styles of yoga at various studios and venues in Regina and other centres.
Wendy has always pursued her passion for health and fitness. She obtained her Fitness Instructor Certification in 2002 followed by a Personal Training Certification in 2006 through Can Fit Pro.
Wendy enjoys sharing her knowledge of yoga in her classes, helping others find their true potential as well as achieve their fitness goals, improve their well-being and quality of life.
Wendy instructs the following:
Come and flow through a series of breath synchronized postures that work toward improving balance, strength and flexibility. This is an energetic style of yoga that emphasizes core strengthening postures through a dynamic sequence of poses. Focus is placed on breathing, aligning the body properly to avoid injury and cultivating overall physical and mental awareness.
All Levels Welcome!

Monthly Unlimited and Chiselled Punch cards cannot be used for yoga classes.




Yin Yoga is a slow paced, passive style of yoga suitable for all levels of fitness and flexibility. Postures are designed to safely apply gentle stress to the connective tissues that form our joints. Postures are held for longer periods of time, targeting the ligaments, tendons and fascia of the body. Yin yoga is a perfect balance to more intense forms of fitness training. Come give it a try to enjoy the many benefits of improved range of motion and flexibility while cultivating your inner calmness.

Monthly Unlimited and Chiselled Punch cards cannot be used for yoga classes.