Jenna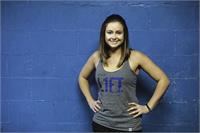 Credentials
YogaFit Certified, Level 5 YogaFit Certified,
Pre/Post Natal
About Jenna
Fitness has been a love of Jenna since she was a child, playing many different sports and participating in many different physical activities throughout her life. Jenna has added yoga to her list of activities she loves doing to keep active. She thought, what better way to spread her love of fitness, than to complete her teacher training and teach yoga at Level 10. In August of 2015, Jenna started her journey of reaching her goal of becoming a 200hr Registered Yoga Teacher with YogaFit. She has completed her courses up to Level 5 and is continuing to take courses to further her education in yoga to provide the best classes she can.
Jenna instructs the following:
Flow & Restore is a Vinyasa Yoga style class with a Restorative Yoga twist!

The class will begin with a 15 minute warm-up flow and a 15 minute work phase to build strength, balance, and coordination. Then, working down to the floor for the last half of the class for some deep stretching and cool down.




Yin Yoga is a slow paced, passive style of yoga suitable for all levels of fitness and flexibility. Postures are designed to safely apply gentle stress to the connective tissues that form our joints. Postures are held for longer periods of time, targeting the ligaments, tendons and fascia of the body. Yin yoga is a perfect balance to more intense forms of fitness training. Come give it a try to enjoy the many benefits of improved range of motion and flexibility while cultivating your inner calmness.

Monthly Unlimited and Chiselled Punch cards cannot be used for yoga classes.