SueAnn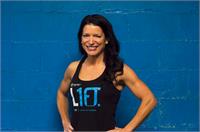 Education & Credentials
Bachelor of Science, Physical Therapy – University of Saskatchewan
Resident Canadian Academy Manipulative Therapist (RCAMT)
Member of Canadian Physiotherapy Association (MCPA)
SueAnn Farthing heads the physiotherapy department at Level 10, establishing our clinic as a satellite of Courtside Sports Medicine and Rehabilitation. Being a Part A Orthopaedic Therapist and Intramuscular Stimulation Certified, her commitment to continued professional development and dedication to wellness and sport performance make her one of the most respected therapists in the city.
About Sue Ann
During her time at the University of Saskatchewan, SueAnn competed as a track and field athlete with the Huskies and a rowed with the Saskatoon Rowing Club. She continues to compete in running, skiing, and mountain biking. In addition to providing physiotherapy services, she also enjoys teaching fitness classes at Level 10 and encouraging others to join her in her passion for physical activity and wellness.
SueAnn instructs the following:



Increase metabolic rate and boost fat-burning with this cardio blast. This mixture of sweat inducing, heart pumping cardio intervals challenge even the fittest athletes. Take it to the next level with this extreme combo of riding and ...more!