Laura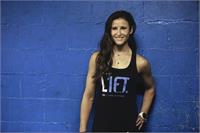 Education & Credentials
Bachelor of Kinesiology, Fitness & Lifestyle - University of Regina
Certified Strength and Conditioning Specialist - NSCA
Agatsu Kettlebell Level 1 Certification
Agatsu Lower Body Joint Mobility Level 1 Certification
Consultant for the Sport Medicine and Science Council of Saskatchewan
Special Interests
Sport Performance Strength & Conditioning
Individual & Group Strength Training
Kettlebell Training
Spin & Fitness Class Training
Triathlon Training
About Laura
Originally from Brownlee Saskatchewan Laura has been involved in sports from a young age, participating in basketball, volleyball, track & field, and triathlons. Laura attended the University of Regina where she obtained her Bachelor's of Kinesiology. During University Laura was on the U of R Track & Field Team, participating in Long Jump, Triple Jump, & Sprints. Presently Laura is very active in Triathlon's & has completed Ironman Canada twice, as well as competing in and supporting local races. Working with Athletes & General Population Clients Laura enjoys seeing and helping them achieve their fitness goals, whether its working on agility or obtaining their first push up. Laura challenges her clients & classes, showing them just how much they are capable of. "Level 10 is an amazing atmosphere & community which makes my job so great. Very welcoming environment for individuals of all abilities."
Laura instructs the following:
Tuesday:

Lead by Brendan Mackenzie who is a certified cycling and triathlon coach. With great energy and music that everyone loves to work hard to this spin is a can't miss! Not only will you work hard, sweat and have fun, but you will also see your fitness improve with each class.

Thursday:

In the spring and summer months Brendan offers those who want to get outside and run the chance to do so during the workout. Don't worry if you just come for the spin. Brendan splits the class in two groups you get what you came for!
The Spin and run session is approx 45-50 min
The stretch portion is approx 10-15 min





Adult Group Training gives clients the benefits of private personal training, but with the added intensity of exercising with a group and achieving similar goals. Adult group training is affordable and fun, while providing accountability, encouragement, education, and social support. Your classes are led regularly by one trainer who keeps track of your progress and keeps you challenged. Training with same group of people also also for periodization and gradual progression in difficulty of lifts, which enhances the safety of exercising.





Private Youth Training Group.




This class hits it all! Get ready for a total body strength workout while also challenging your aerobic fitness




Kettlebells are an effective training tool maximizing results in workouts. Challenge your core strength, flexibility, balance and stability, coordination, cardio, and muscular endurance with the newest dynamic exercises at all skill and fitness levels. Be ready to work!!