Dan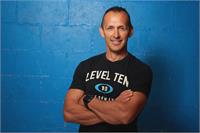 Owner, Director of Training Service and Exercise Specialist
Education & Credentials
Masters of Physical Activity Studies - University of Regina
Bachelor of Science, Physical Education – University of Saskatchewan (Greatest Distinction)
Certified Strength and Conditioning Specialist, NSCA
Certified Exercise Physiologist, CSEP
Consultant for the Canadian Sport Centre Saskatchewan
Consultant for the Sport Medicine and Science Council of Saskatchewan
Special Interests
Sport Performance Training for all sports
Personal Fitness Training
Group Fitness Training
Outdoor Activity Experiences
About Dan
Dan Farthing has demonstrated a total commitment to excellence in his academic, professional and athletic careers. Dan is a Certified Strength and Conditioning Specialist with the National Strength and Conditioning Association and a Certified Exercise Physiologist. He is a Consultant to the Canadian Sport Centre Saskatchewan and the Sport Medicine and Science Council of Saskatchewan. Dan's passion for sport performance training is paralleled only by his enthusiasm for health and wellness. He believes that the principles that apply to sport training also apply to fitness training. Functionality is important for improved athleticism, but it is equally important for quality of life. Dan graduated with Greatest Distinction from the College of Kinesiology at the University of Saskatchewan and was awarded the President's Medal as the Outstanding Graduate at 2002 Fall Convocation. He continued his post-graduate education in the College of Kinesiology and Health Studies at the University of Regina and holds a Masters of Physical Activity Studies. Dan's athletic career was centered in the province of Saskatchewan. After eleven years as a receiver with the Saskatchewan Roughriders, he currently sits third in all-time receptions and ninth in receiving yardage. He was a three-time nominee as the team's Most Outstanding Canadian and, in 1997 - the year the team won the West Division and was a Grey Cup Finalist - he led the team in receiving yardage. In 2009, Dan was inducted into the Roughrider Plaza of Honour. Dan became a Roughrider when he was drafted second overall from the University of Saskatchewan Huskies where he captained the 1990 National Championship team, and was honoured as All-Canadian, West nominee for Outstanding Player and the 1997 CIS Rookie of the Year.
Dan instructs the following:
Adult Group Training gives clients the benefits of private personal training, but with the added intensity of exercising with a group and achieving similar goals. Adult group training is affordable and fun, while providing accountability, encouragement, education, and social support. Your classes are led regularly by one trainer who keeps track of your progress and keeps you challenged. Training with same group of people also also for periodization and gradual progression in difficulty of lifts, which enhances the safety of exercising.