Nick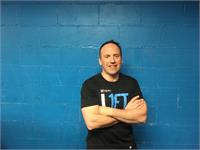 Education & Credentials
Bachelor of Science in Pharmacy-University of Saskatchewan
Certified Strength and Conditioning Specialist (NSCA)
About Nick
Nick is excited to be back at Level 10 where his passion for training and coaching began back in 2003. He has always enjoyed many sports and was a past provincial badminton champion and competed at nationals as well. Nick took up an interest in endurance sports after beginning training at Level 10 and has completed multiple Half Ironmans and 3 Ironman triathlons. In 2014 his fitness journey resulted in competing in INBF and IDFA natural bodybuilding competitions, winning the life transformation challenge at the IDFA competition. He is currently training to compete in his first Strongman competition in summer of 2017. Over the years Nick has enjoyed coaching people in a variety of things including endurance sports, strength training and nutrition. Having gone through the process himself, Nick has a keen interest in inspiring people to change their lives through hard work, perseverance, and most of all by allowing yourself to DREAM BIG.
Nick instructs the following:
Increase metabolic rate and boost fat-burning with this cardio blast. This mixture of sweat inducing, heart pumping cardio intervals challenge even the fittest athletes. Take it to the next level with this extreme combo of riding and ...more!




A total body strength and conditioning blast. 20 minutes of heart-pounding spinning followed by 20 minutes of circuit training with a variety of sequences and equipment. Finishing off with 20 minutes of core work & stretching to complete a fun workout effective for all fitness levels. Guaranteed not to get bored in this class.